10 Desk Setups That You Need To See
9th Apr 2020
Get Your Setup Right
You Spend Most Of Your Day At Your Desk Working - Make It As Pleasurable As Possible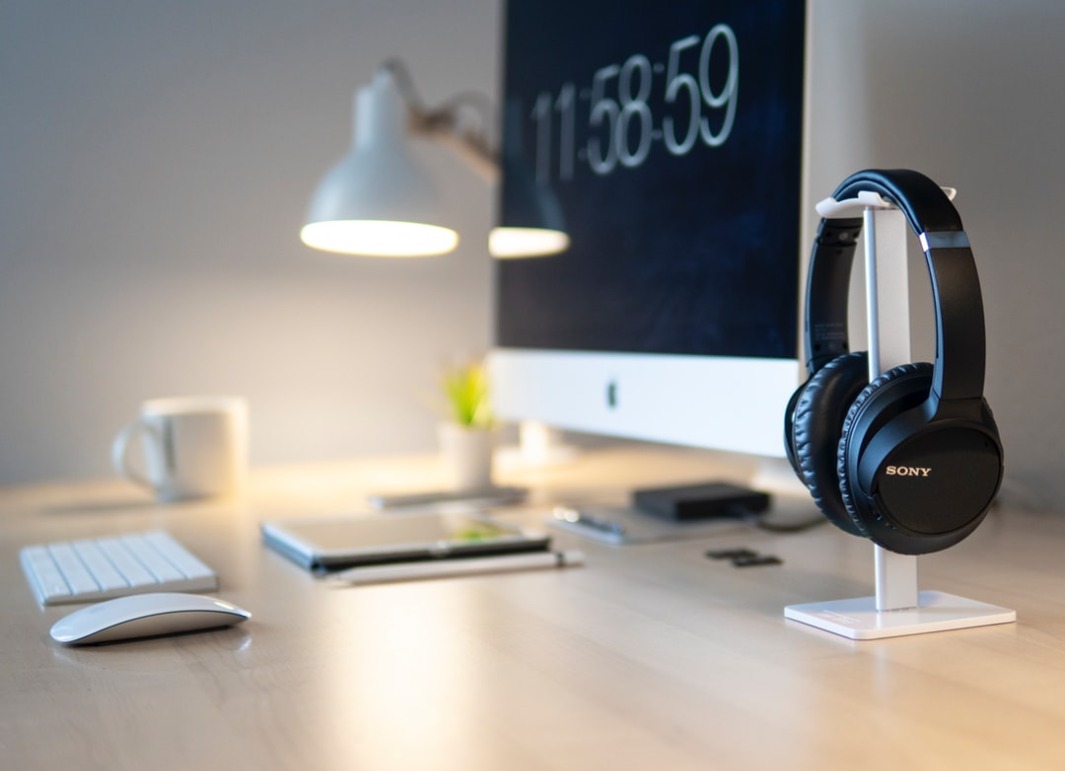 ---
---
Make Sure Where You Work Is Comfortable
A majority of your time is spent grinding away at your desk contacting colleagues or negotiating deals.
With so much going on, your workplace environment can quickly become chaotic and disorganised. As you start to miss calls and lose important letters, your setup can easily contribute to a feeling of being overwhelmed.
Take some time to organise your work space now.
It will help keep you relaxed in intense situations and give you a productivity boost as you are easily able to deal with the inevitable stress.
Check these setups out for some inspiration.
Clean Is The Name Of The Game
Keep it clean.
All the setups will differ by style but they will all have one common theme...they're clean.
Task Number 1 before you start any redesign of your workspace is to get rid of all the clutter and keep the essentials.
Not only will it look better it will also be a cathartic experience.
Keep It Elevated
Spending all day hunched over in front of a desk was never going to be good for your health.
One of the first issues to arise from this is a poor posture.
Maintaining a healthy posture can help you focus for longer periods of time and be more productive as the aches and pains are no longer a distraction.
One subtle, yet powerful, way of doing this is to have your screens at eye-level. By elevating your monitors you can instantly promote better posture.
Follow The Gamers
Love them or hate them, the gamers know what they are doing when it comes to desk setups.
From chairs that seem to be designed by NASA scientists to computers that look like they come from another planet, the gamers take their workspace seriously.
The end result is flawless as they have taken everything to the finest detail, including things like cable management. Keeping wires out of site has become somewhat of an art form amongst gamers and is always something to note when creating your setup.
Make Use Of Availabe Space Efficiently
Okay you have a lot of clutter but it's all important right?
Sounds like you need to expand your work area - but extra storage doesn't have to come at the expense of style.
L-shaped desks are a stylish way of maximising your workspace and can offer an efficient way to store all those important documents.
Modern Isn't The Only Style
Explore different styles and choose things that suit your personality and style.
Whilst it's important to keep things clean that doesn't mean everything has to be a minimalist modern design.
When done right, wooden desks and leather chairs give a room a certain "warmth" that anyone would feel comfortable working in for hours on end.
Multiple Monitors For Productivity
We've all seen those stocks traders with a hundred graphs on 10 different monitors pretending like they are making buy and sell decisions on each graph.
Multiple screens can lead to an increase in productivity with the added benefit of look hugely impressive (and borderline pretentious) to onlookers.
With three screens stacked you can be working on your website with Photoshop open on another monitor for that design logo that you are learning how to create from a Youtube tutorial video on your third screen.
You get the idea.
Adjustable Monitors For The Win
Working on a website for your business? Writing a letter to the tax authorities? Then monitors that you can adjust horizontally and vertically are another consideration for your workspace.
Switching between portrait and landscape can be beneficial depending on the type of task in hand.
Being able to completely focus on the task in hand and not constantly scrolling up and down to get the cursor in view will allow you to be more productive.
Not essential but a nice extra touch to give you a helping hand.
Get The Kitchen Table Out
Large wooden tables (like on Joe Rogan's podcast) that you typically find in the kitchen means that you can keep all you documents and essential items right in front of you.
When someone calls and asks you for the details of a recent purchase, no longer do you have to go routing through all your drawers and storage.
With everything on a wide table everything is to hand and you can calming extract information rather than burrowing through a filing system that is inevitably going to get out of control.
Go Big And Go Wide
Your screen real estate is probably the most important part of your setup.
If you feel multiple monitors is too much to manage how about just one huge widescreen monitor.
More aesthetically pleasing than multiple monitors stacked on top of each other, this setup will turn heads whilst still providing the practicality that help you keep focussed on your work.
Stand Up For The Setup
Posture and physical health have to be a concern when you are at desk editing media all day.
One of the ways to address problem is a standing desk.
Designed so the user can adjust the height of the table whilst they are working, a standing desk can offer serious health benefits in the long term.
Not only are there physical benefits including an improvement in your posture and preventing muscle imbalances that occur from sitting down, it will also help keep you focus on tasks for longer as those distracting aches and pains become obsolete.
Make It Your Own
Online workspace setups serve one primary purpose - to show you the possibilities of what you can have.
The buck stops with you - you are responsible for the quality of your setup.
The acid test will always be - does your work environment make you more or less productive? Make every decision with that in mind and your workspace will be completely tailored to you and your style.
---